Your wireless infrastructure is fundamental to everything from back-end operations to customer service. Don't leave your critical wireless infrastructure to chance, leave it to Telaid.
Telaid has the design, deployment and support of wireless networks for multi-site clients down to a science. We understand that access to reliable, secure wireless networks is critical to every aspect of your business. We avoid the problems by asking the right questions up front and following our proven processes, all while working within the framework of security. If you need a spot-on wireless network the first time, you need Telaid.
+

Predictive Analysis

Using tools like Ecahau and Fluke Air Magnet software, Telaid designs and evaluates wireless networks on paper. The accuracy of these tools results in quicker deployment, reduced expense associated with site surveys, and ensures the wireless network meets your precise requirements.
+

Wireless Network & Infrastructure Upgrades

Your infrastructure is critical to support the smooth deployment and operation of your technology. Qualified to evaluate and install supporting infrastructure, including structured cabling systems, switch ports, Power over Ethernet (POE), electrical power, and rack space, Telaid ensures your infrastructure supports your technology for peak performance.
+

Staging and Configuration

All wireless controllers are preconfigured, kitted and labeled in the Telaid Technology Solution Center (TSC), for plug-and-play installation, reducing time and cost on site.
+

Rapid Deployment

Telaid's project management team coordinates every detail of your project, from arrival of equipment on site to the assignment of the right Telaid technicians, making installation, testing and adjustment a breeze. That means less time, cost and task for you!
+

Site Certification

Telaid uses state-of-the-art software and sensing hardware to verify wireless coverage at your facilities and confirm desired signal strength in the channels specified by your network team. We don't close out the project until all systems are go.
+

Ongoing Support and Maintenance

Telaid offers several options for ongoing support and maintenance including break-fix and depot repair. We can warehouse and ship replacement parts to minimize downtime and/or send qualified trained technicians on site for repair.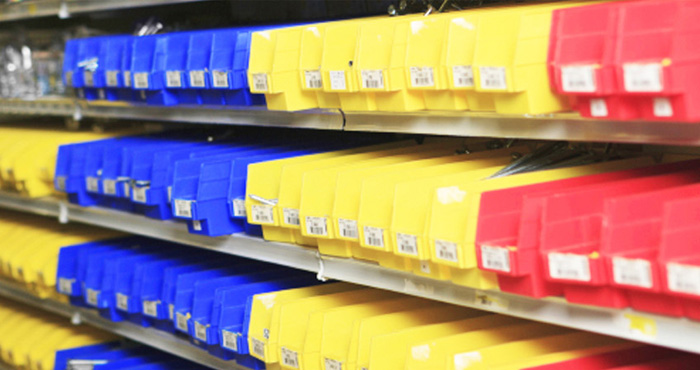 Real Results
Telaid Knows Wireless Networks for Retail
For a major multi-site home improvement retailer, Telaid designed and deployed sophisticated wireless infrastructure required to handle multiple devices including handhelds for inventory scanning, package management, order fulfillment, equipment monitoring systems and laptop computing. Telaid's use of predictive analysis enabled the efficient design of a wireless network, and saved hundreds of hours of labor required on site with a traditional site survey solutions and assessments.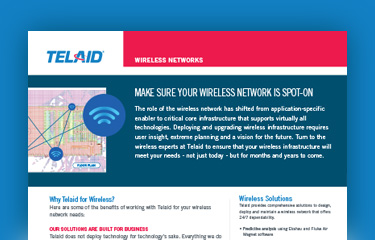 Telaid Delivers Spot-On Wireless Networks for Retailers
Wireless is quickly becoming the most urgent and critical technology for retailers. The role of the wireless network has shifted from application-specific enabler to critical core infrastructure that supports virtually all technologies.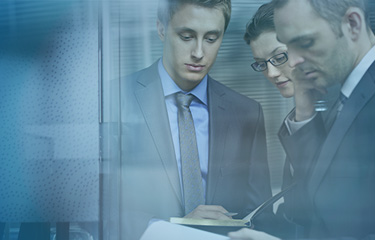 What Makes Us Different?
Our people, process, and tools are the most valuable and vested in the industry. We take pride in who we are and how we have created the methodology and invested in the right tools to consistently deliver every time.