Telaid is the technology partner of choice for enterprise clients that want to accelerate technology adoption to drive positive business outcomes thru scalable repeatable programs.
Telaid understands business and the critical need to quickly and precisely integrate emerging technologies. That's why everything we do is designed to help you deploy and manage technologies efficiently and cost-effectively to allow you to accomplish your business objectives as soon as possible.
Why Telaid is the technology partner for multi-site enterprises.
Years of Experience

With more than 40 years of experience, we understand technology and enterprise technology.
Customer Commitment and Satisfaction

We serve 14 of the top 50 retailers – a testament to our level of customer commitment and satisfaction.
Our Proven Process

Our Proven Process was built on thousands of
successful client projects and ensures on time, on budget results.
State-of-the-Art Technology Solution Center

Our state-of-the-art Technology Solution Center (TSC) can handle approximately 800 devices concurrently for configuration, ensuring efficiency and speed.
Technology Agnostic

We're technology agnostic, ensuring that we support your project no matter which technology you choose to accomplish your business objective.
BICSI Authorized Training Center

Our BICSI Authorized Training Center shows our dedication to ensuring a robust physical layer infrastructure.
Do you use ServiceNow?
We do too! Did you know that we can map workflows and perform a custom integration to portions of our ServiceNow platform to:
Reduce administrative efforts and rekey errors
Offer real-time visibility into project status
Reduce costs
Collaborate more efficiently
Discover how ServiceNow integration with Telaid is a game-changer!
Our People, Process and Tools Make All the Difference
At Telaid, we invest in our people, process and tools to ensure we can deliver the most complex enterprise technology projects on time and on budget. These fundamental assets allow us to grow, change and constantly improve our service to our clients. We invite you to explore some of our people, process, tools below and how they make a difference to you, our client.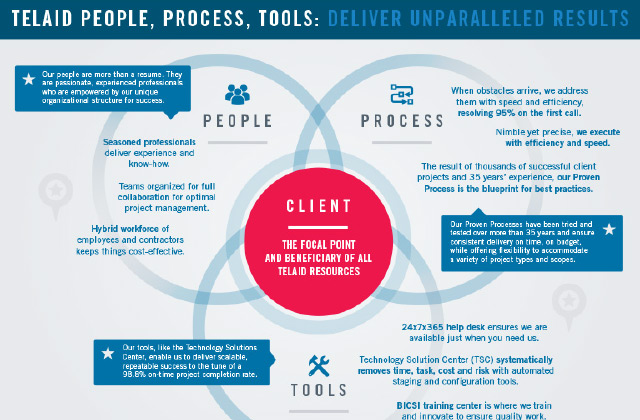 Learn More
Telaid's Technology Solution Center: The Heart of Our Zero Defect Operation
Telaid's state-of-the-art Technology Solution Center (TSC) is the location where we organize, stage, configure and repair equipment. Our comprehensive asset management services ensure your projects are handled with complete consistency and precision for on time, on budget delivery. We aggregate, configure, kit and ship equipment so that it arrives on site, ready for plug-and-play installation.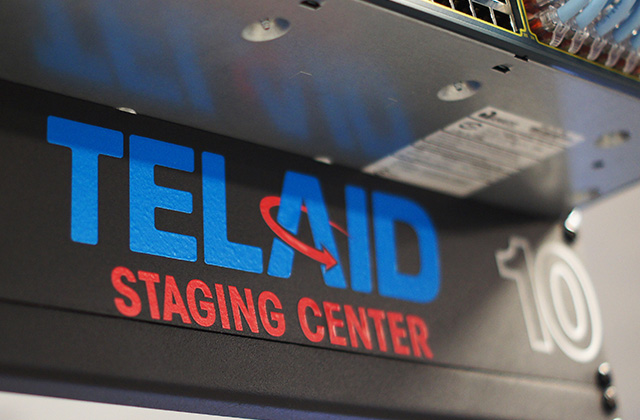 Explore the TSC
The Numbers Prove It!
Don't just take our word for it; our track record speaks for itself. We currently serve eight of the top ten retailers, a testament to our ability to deliver on time and on budget.
Consider some of the reasons why Telaid is the technology integrator of choice.
Find out how Telaid can help you realize your business objectives.
The best way to understand our work is to explore some actual case studies and the results we were able to achieve for our clients. Read some of our success stories below.
Our Core Values
Be Proactive
Challenge the status quo
Over communicate
Operate with a sense of urgency
Strive for continuous improvement
Find a way to "Yes"
Be a Team Player
Know your role and how it impacts the bigger picture
Foster mutual respect
Offer to help others and ask for help even when
it is "not your job"
We succeed or fail together
Take Ownership
Do what you say
Deliver on time
Finish what you start
Escalate when necessary
Have pride in everything you do
Do the Right Thing
Under promise – over deliver
Act with integrity
Earn peoples trust
Focus on the customer
Telaid Partners with Best of Breed Providers to Meet Your Every Technology Need
Telaid is committed to working with best of breed technology solution providers. We research and vet our partners and solutions to ensure the quality, dependability and durability of their solutions.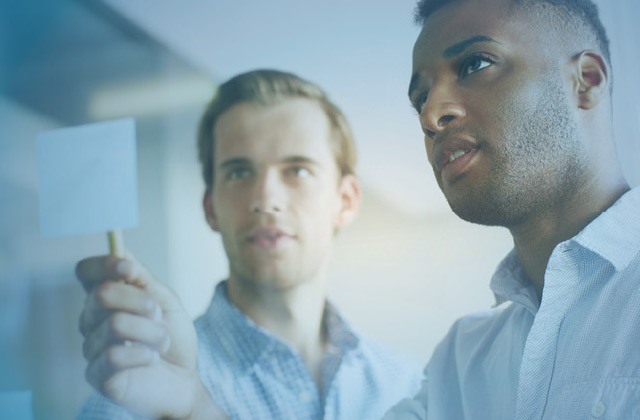 Learn More