Press Release
Telaid Earns 2022 Great Place to Work Certification
April 6, 2022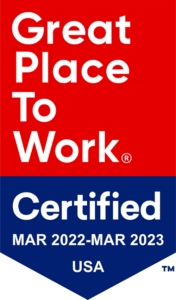 Telaid, a trusted, full-service technology integrator for more than 40 years, is proud to be Certified™ by Great Place to Work® for the third year in a row. Results from the Great Place to Work survey revealed that Telaid employees feel engaged in their work. For example, 90% of Telaid employees indicated that they feel a sense of pride in the company's accomplishments. The vast majority of Telaid employees, 91% feel like they are given a lot of responsibility.
"For more than 40 years, Telaid has a legacy of investing in its people. We put our employees first and they, in turn, put our customers first. We are honored and encouraged that our employees find Telaid a rewarding place to work," said Chris Patsiga, CEO of Telaid.
Even in a tight labor environment, Telaid continues to grow quickly, adding over 85 new employees in 2021. The senior leadership team continues to invest time, money and resources in training for employees, hybrid work environments that enable employees to maintain a healthy work-life balance, team-building events, company celebrations and profit-sharing programs.
"Great Place to Work Certification™ isn't something that comes easily – it takes ongoing dedication to the employee experience," said Sarah Lewis-Kulin, vice president of global recognition at Great Place to Work. "It's the only official recognition determined by employees' real-time reports of their company culture. Earning this designation means that Telaid is one of the best companies to work for in the country."
Telaid continues to grow rapidly, offering employees opportunities for advancement. According to Great Place to Work research, job seekers are 4.5 times more likely to find a great boss at a Certified great workplace. Additionally, employees at Certified workplaces are 93% more likely to look forward to coming to work, and are twice as likely to be paid fairly, earn a fair share of the company's profits and have a fair chance at promotion. Telaid's outstanding talent delivers service excellence to our enterprise clients as we engage in complex technology projects. For more information, on Telaid's services, visit www.telaid.com.
About Telaid
A trusted, full-service technology partner for more than 40 years, Telaid reduces time, task, cost and risk associated with complex deployments and ongoing technology management. Telaid makes IT simple with rapid rollouts, product lifecycle management and managed IT services so you can make the most of your technology assets across their entire lifecycle. Telaid deals with all the technologies in your business, from wireless to physical security solutions, infrastructure and cabling to automation, emerging IoT and analytics. Supplement your IT team with an experienced, capable resource that helps you advance your business objectives.
About Great Place to Work Certification™
Great Place to Work® Certification™ is the most definitive "employer-of-choice" recognition that companies aspire to achieve. It is the only recognition based entirely on what employees report about their workplace experience – specifically, how consistently they experience a high-trust workplace. Great Place to Work Certification is recognized worldwide by employees and employers alike and is the global benchmark for identifying and recognizing outstanding employee experience. Every year, more than 10,000 companies across 60 countries apply to get Great Place to Work-Certified.
About Great Place to Work®
Great Place to Work® is the global authority on workplace culture. Since 1992, they have surveyed more than 100 million employees worldwide and used those deep insights to define what makes a great workplace: trust. Their employee survey platform empowers leaders with the feedback, real-time reporting and insights they need to make data-driven people decisions. Everything they do is driven by the mission to build a better world by helping every organization become a great place to work For All™.